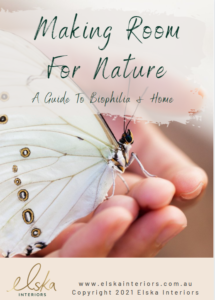 Making Room For Nature- A Guide To Biophilia & Home
A beautifully designed book that delves into the world of design with nature at its core.
Bec explores the science behind how natural settings and elements help human health and happiness.  The book offers strategies for easily applying Biophilic Design elements into pre existing homes, no matter your experience, to offer greater wellness.
About Bec
Hi there. My name is Bec and I founded Elska Interiors in 2015 after renovating for more than a decade. My family and I have always been creators and I don't mind jumping on the tools around my own home either.  I also happen to have a background in science which is one of the reasons I seek out evidence based strategies to support effective design solutions.  My home base is currently in Samford Valley, Brisbane, however my mission is to help as many people, wherever they are, create connections with their loved ones, their own story and nature.