I don't think I have to explain to many people that including plants into your home is a perfect way to soften hard surfaces in interiors, add life and create connection to nature, .  They're good for our mental health, help with cleaning air and are an important part of beautiful styling.  But have you considered moss as an option?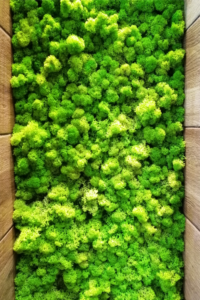 Moss walls have been a rising trend in the corporate world.  They have some really awesome attributes such as being fantastic acoustic and air toxin absorbers.  They add the green element we're looking for while being low maintenance and they come in a range of colours.   Plus they're of so touchable.  But then I wondered whether we might use them in our homes which sent me down a very green rabbit hole.  The answer is yes!  I found quite a collection of beautiful examples and wanted to share them with you too.
But first a few more things about moss walls.  Moss walls are made from lichen from forest floors and can be installed as living or preserved moss.  If your moss is living it will require some humidity (approximately 55-65%) and misting if the air dries out.  Although if it's in your bathroom, your shower will probably do the job for you. It is generally grown on a bed of peat moss that's attached to a hard backing.  While direct sunlight (especially in Australia) may be a little too harsh it can tolerate low light levels.
Preserved moss is perfect even if you fail with plants normally.  It's not actually alive but treated so that it maintains its healthy look and doesn't grow fungi or bacteria.  It's environmentally friendly compared to artificial plants and can have an antistatic treatment applied reducing the issue of dust.  Your moss be dyed to different colours (with people friendly food dye) and fire rated (practical and fun).  You can have your moss set into shaped containers and add lighting allowing your creativity to run free.
Moss walls are something you can have a go at creating yourself or have installed by one of the many talented companies across the world.  I have a feeling that at least a few of you will be looking for ways to incorporate moss after looking through these amazing installations.