Hello lovely.  Are you planning on a living room revamp?  Are you hoping for something that goes beyond the typical shrine to the television?   Well with some excellent planning they can become a place to escape, loose hours chatting with your bestie and so much more than that.  Here's 6 ways you can create a living room to sink into for hours.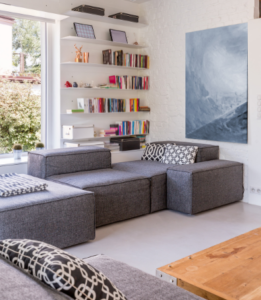 1. Flexibility
Living spaces are the ultimate multi-taskers as somewhere to relax, entertain, binge watch your favourite television series and more. As such, they require flexible furniture set-ups to suit different activities.
Include different seating options in your living room that allow people to talk to each other comfortably and see the screen with ease. Depending on the size and shape of the room, you might include a couple of sofas and armchairs, a chaise longue, or single sofa with an armchair or two and some beanbags for younger members of the family.
Need extra flexibility? Choose armchairs that swivel.
Photo by Katarazyna Bialasiewick
2. Mix up textures
Bringing into your living room is a shortcut to coziness. Without it, a space can feel harsh and unforgiving.   Create a relaxed, cocooning vibe by layering up rugs, cushions and throws in different textures with a variety of natural materials such as leather, wool and jute. 
Seek out pieces in soft, nature-based hues that evoke feelings of calm and comfort, such as sage, dove grey, clay and the blue of early-morning skies.
Finish off with a medley of indoor plants to boost the connection with nature.
3. Light it right
Adjustability is key to a successful living-room lighting scheme. Opt for overhead lights and lamps on dimmers so that you can adjust lighting levels to suit the mood as you move throughout the day and into the night. Having greater control over lighting in the evening will also help your body's natural (your biological clock).
Your lighting scheme should also allow for to enter the room – sheer curtains, shutters or venetian blinds will all keep glare at bay while letting soft light filter in. 
And never underestimate the impact of candlelight, even if it's just a single scented candle on the coffee table. Not only is candlelight calming, but essential oils can boost relaxation and clarity of mind, making way for more focused and engaging conversations. Consider essential oils such as ylang ylang, clary sage, lavender and bergamot.
4. Choose the right-size furniture
Often people select furniture that is not the right size for their living room – and whether it is too small or too large, the end result is the same: the room doesn't feel right. 
When you're selecting furniture, first consider the scale of your room. Lots of small furniture pieces in a small living room will make the space feel more cluttered. Instead, choose fewer, more generous pieces. If your living room is large, capitalise on this with generously proportioned pieces.
While some negative space (the empty space in a room) is good as it allows your eye to rest, too much and your room will feel empty. Make sure that you measure your living room and create a basic floor plan before buying anything. As a guide, allow 75cm between furniture to walk around comfortably and 35 to 45cm between sofas and tables so you can place a drink down with ease. 
Also, consider the scale of your sofa for the people who will be seated there. Consider whether the sofa you have your eye on is deep and high enough for all members of your family to sit on comfortably. The best way to assess this is to visit the showroom and sit down together for a while.
A coffee table is a perfect place to show off your personal style.  Adding a few personal objects makes for great conversation starters too.
5. Add a few tables
Any good social setting requires somewhere to rest your wine and nibbles, so you'll want to include a mix of options such as side tables, coffee tables or ottomans that can hold a tray. Position them close enough to people so they can place their drink down comfortably while seated.
A current trend is to place a side table beside a coffee table, creating different heights and interest. As an added bonus, a side table is often light enough to lift up and move closer to where you need it when necessary.
6. Smarten up your storage
Clutter is one of the biggest killers of a cosy, conversational atmosphere. I'll commonly enter a client's home and see multiple small pieces of furniture housing a bunch of wires poking out from under a television, a stack of games, collections of trinkets and papers. 
Clutter not only causes distraction but it also increases cortisol – your stress hormones. One or two pieces of beautiful closed cabinetry will allow you to tuck things away that aren't for display purposes.  Minimise the number of items you have on display so your favourites have a chance to shine.
I hope this gives you some excellent tips to start moving forward on your new living room.  Have a fab week.