If you pay any attention to design trends you may have noticed a drift towards a need for greater connection with nature. Pinterest worthy homes brimming with plants is off the charts and a desire to incorporate more timber, jute and wool is growing.  There has no doubt been a shift due to a reversal of the absolute white out we've seen in recent years and a need to disconnect from technology and reconnect with ourselves.  When you consider the growth in the wellness and self care sector it is not surprising that this re imagining of how we care for ourselves might extend to the places we inhabit.  But it goes deeper than that.
It is about a connection that we have developed over the course of the evolution of man.  Because humans have spent so much time living in wide open savannahs or hand crafted huts we simply feel more comfortable when we layer our plain white boxes with cues from nature.
While this understanding is something we've always inherently felt, it is now becoming widely discussed and researched within the design world and it is called Biophilic Design (Love Nature in Latin).  It is simply the realization and application of our need for nature in our lives.
Consider your own attraction to the beach, a forest or the country.  We're drawn to these places because of our innate connection with nature.  It's the reason we love a dog not a python, even though either could sustain a significant bite.  Our connection with nature is so well developed that it has a physical effect on our bodies and scientists have started to prove it.
In 2009 the journal for environmental health and medicine published that (Shinrin yoku), the practice of spending time in a forest without the distraction of technology, decreased stress and increased natural killer cells resulting in improved immunity.  The publication also showed that the results lasted up to 30 days after your trip to the forest.
In 2015 the University of Melbourne reported evidence that a increased cognitive capacity and studies have demonstrated that shifting airflow is useful for improving alertness.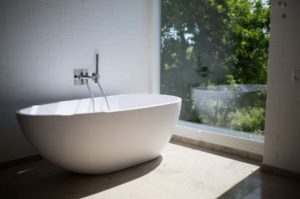 The scientific evidence mounting around the benefits of nature on health is becoming so prolific that hospitals across the world have started to incorporate, if not build entire hospitals, based upon Biophilic Design Principles with hospital setting an exceptional example.
With people spending approximately 90% of their time indoors,
the way we build and view our interaction
with nature in the built environment, requires a shift.
While plants are an integral part of our connection to nature they only make up a fraction of the layering that Biophilic Design considers relevant and while the introduction of plants into a home is a wonderful beginning you will have only scratched the surface of what's possible.
There are so many opportunities to build Biophilic Design principles into your home when you consider the inspiration the planet offers like wind, water, light, plants and shape to name a few.  Here I'll share some possibilities with you.
A Room With A View
Taking in the view outside is one of the easiest ways to bring nature in.  Even a city apartment might benefit from a sky view through a window or a view to a green wall.  Fill your courtyard or veranda with naturally occurring items and references like organic pots, tiles patterned with flowers and plants to create a beautiful connection from the inside to out.  Place plants by your windows or continue materials from inside to out to draw your eye towards your garden.
Water is clearly required to sustain life and of course most of us are fortunate enough to have water supplied through a tap.  However we still have a deep connection with water and so a view of water and even the sound of water makes us feel good.  Think of the soothing sound and scent of rain falling gently, the awe of a deep blue lake reflecting the sky, or the joy of the ocean spread wide before you.  That feeling is related to our absolute requirement for water and it's the very reason people love the colour blue.  You may not be fortunate enough to have a lake at your doorstep, however a view of a pool, artwork symbolising water or even the colours of water are generally calming.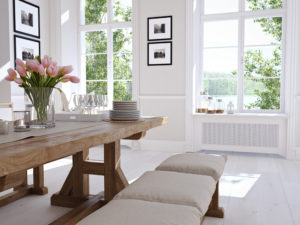 Connection
One of the things I dislike seeing in homes the most is when it has a disconnect to the place it is located.  For example, the idea of creating a beach shack feeling in a country setting.  It is jarring and doesn't help the inhabitants connect with the place they're in.  Instead, by looking to local plant life, the history of a place and how it is currently used, you can create a feeling of connection to where you are.  Additionally, by incorporating natural tones and products such as local stone or timber, into the exterior of your home you can build a home that is grounded and settles more quietly into its landscape.
My home is based in Samford Valley, Australia, a beautiful semi-rural town surrounded by mountains with a long history of farming and a fair dusting of horse love.  As a result my home finds its ques in images of horses, mountain landscapes, grasses typical of the area, and the tones in my home reference the trees and mountains I see through my windows.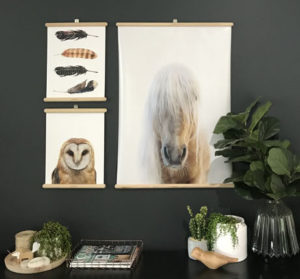 This kind of connection may be harder to immediately recognize in city settings however I can assure you it's there.  One of the simplest ways to reference your local area is to find a dominating landscape feature like a river, cliffs or local trees and represent the colour palette in your home.  You can also easily bring the seasons indoors with vases arranged with local foliage and flowers or vignettes styled with shells or pine cones dependent on what's relevant.
Create a home that is quietly grounded by taking inspiration from your native colour palette and materials.
A Safe Abode
One of our most basic biological needs is that of safety, and while we don't need to fear wild animals so much, we still find comfort in a safe, protective space.
A great example of this is the classic Queenslander.  It is set up off the ground, with those long sweeping verandas, allowing us a great wide view with protection to our back.  These principles can be incorporated into other areas of our home also.  When design your bedroom look to a curved bedhead for that feeling of embrace and a view towards the door allowing you to see what is coming towards you.  Or people will often choose to place favourite reading chairs with the backs to a wall.
Representing Nature
The human brain is excellent at taking references and making connection which serves us well when we are trying to introduce nature without planting an entire forest in the living room.
Instead the emulation of natural environments can be achieved through natural finishes such as timber, stone, leather, wool or sisal.  Often even the texture can create a positive effect and the more you incorporate authenticity the better it will be.  Please be sure to check for sustainable products when sourcing.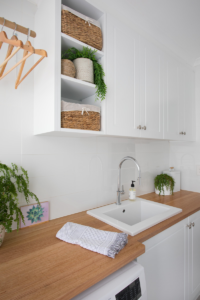 Furniture and home wares can offer representation of natural forms through shape.  Look to curved furniture, live edge timber, hand made clay pottery for all of its imperfections and rounded vases.
Repeating natural patterns of spirals, leaves, diatoms, waves or tessellations are not only pleasing to the eye but can also be used to create a strong repeating theme throughout your home.  They can be applied to screens, wallpaper, fabrics of cushions or bed linens and even in tiles.  They do not need to be an exact replica of a natural form either.  Our brain has a way of making the connection quickly.  Although they are not the same, note how similar the beautiful stained glass window is to a Diatom.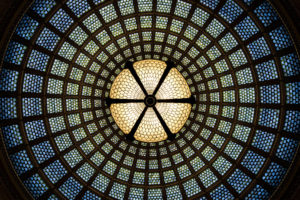 These are only a fraction of the ways you could create a home that feels imbued with nature.  The key thing to take away from this story is that a connection to nature will have a positive impact on your health and well being when the touch points are frequent and significant.  So extend beyond the lonely houseplant in the corner and reach for all the joy the earth has to offer.
If Biophilic Design is something you would like incorporated into your home please call me at your earliest convenience.
Bec xo
 0417 600 893
bec@elskainteriors.au