Hello there. I hope that you're finding your calm in amongst the juggle of the day. I have my own strategies to get me through because the truth is without them I would lose my mind. Here they are:
🍃Have your calming scent within reach of you and breath deeply. Scents trigger physical reactions and the right one for you can help keep your mood in check, calm or alert depending on what you're needing. Better still, the action of breathing deeply tells your body that everything is ok while sending more oxygen to your brain, allowing you to make excellent decisions. I love @myrtleandmoss and the @endota essential oil range.
🍃Play music suitable for brain stimulation. There's so many options on streaming apps. My faves are 'Focus Music: Work- Studying- Concentration' and 'Chill Music 2021' on Spotify.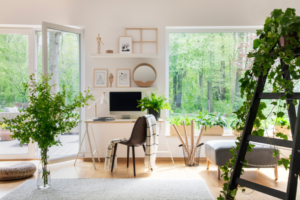 🍃 Have a view to plants and a fresh breeze. I'm lucky enough to be looking out the window at trees and grass. Even with that I like to gather plants around me to create a feeling of immersion. I love the action of caring for them. It feels cathartic.
🍃 Keep a tidy desk. This is actually very useful because the human brain is constantly processing everything around it. Your brain does not need to be processing clutter when you are working on your important goals of the day.
🍃You only need to accomplish 3 important tasks today (mine the home schooling, a cabinetry drawing and one room worth of documentation)…anything else is a bonus. I remind myself of this because it offers me focus and reduces the panic about "the list". Don't worry, the list will still be there. Just make sure the expectations are set.
🍃 Now I'm going to add a new one in (because it just occurred to me. At the end of today, reflect on what you achieved this week. Make a list if it helps. Know that you moved forward and you will again next week. Ok you amazing human being. Thank you for following along. Chat later 😊 xo
If you enjoyed this why not take a look at my article ' A Workspace To Love'