Spring is finally here with her warm breezes, blue skies and crisp mornings.  She feels hopeful and a little bit exciting so it's no wonder that we all start to dash about our homes like bees across a garden bed, looking for what we can improve.  Well I thought I would share the things that interior designers would often look to do at this time of year (before I buzz off to do those things too).
Bring Spring Inside
Layer up on your indoor plants and flowers.  Yep!  Spring is here so why not bring her inside.  Don't be afraid to go for it.  Create a lush tropical feeling using large, glossy green leaves mixed in with delicate, feminine ferns. These kinds of plants offer our basic instincts the best feelings of wellbeing.  While you're at it keep your plants looking great with a decorative pot (or basket) indoor fertilising and a trim where needed.  I also highly recommend keeping pots or vases of herbs on the kitchen bench.  They are practical and suggest that spontaneous cooking might break out at any moment.  
Add vases of delicate little flowers in jam jars or big blowsy blooms in your favourite vase.  Add them to your table, entry and desk.  Anywhere you can see them frequently is perfect.  If you're a person who loves bright colours around you throw some delicate bunches of wattle or hardy paper daisies in a vase.  For a more controlled colour palette you can't go past bunches of Queen Annes Lace or Geraldton wax.  Stop in at your local florist and see what takes your fancy. 
Pattern Play
Not everyone can incorporate fresh flowers and plants into their homes (I'm thinking of all you poor allergy sufferers here) but you can still enjoy the plants and flowers of spring.
Switch your textiles for tones and patterns keeping in time with the rhythm of spring.  Tones of green, blue and white feel fresh and will easily carry you through summer as well.  If your style is playful, joyful pops of yellow, pink and mint are going to be perfect for you.  Ad art to your walls until you feel like you're enjoying a conservatory.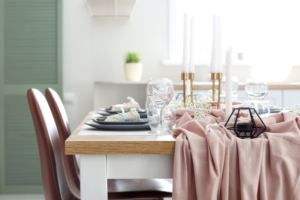 Give Her The Deep Clean She Deserves
Do you know one of the things that make a hotel room feel lovely?  The room is free of unnecessary clutter and everything is clean.  I know it's boring but… if you enjoy that feeling (I know that you do), why not give it to yourself at home.  Clean your windows and fans, get into the corners of the floor (even behind the toilet) and give your cushion covers a clean.  You wouldn't be happy with a hotel that has dust across a counter or a random hair in the bathroom so clear it out of your home too.  This might also be a good time to consider having your carpets and tile grout lines professionally cleaned, especially if you have allergy sufferers in your home.  Don't forget your outdoor areas.  You'll be pleased with yourself when the next BBQ is scheduled and your outdoor area is ready to go.  If your outdoor furniture is looking a bit tired maybe it's time to replace it, so I added a couple of my favourites for you.
Creating Focus
The "trick" to excellent design is often more about what we leave out rather than what we add in.  Unfortunately over time we have a tendency to continue layering.  When we have a myriad of items in a room it becomes difficult for our brain to focus and the items in front of us lose impact.  Too many decorator items end up feeling like clutter, no matter how beautiful they are.  A few carefully selected items framed by clear spaces are enjoyable and can create exciting new focal points.    When decorating, ensure everything has purpose.  Is it useful, inspiring or evoking a special memory?  Group items in little vignettes (a grouping of objects usually in odd numbers).  Since it's spring, consider using items that reflect her fresh nature.  
Update Your Scent
Of course I don't mean YOUR scent.  I mean the scent of your home.  Now that you've finished all of your cleaning and your home is smelling fresh it is worthwhile adding in a scent that makes you feel like spring is here.  You can use candles, diffusers, room sprays or essential oils dropped onto dried gumnuts and banksia flowers.  Try a floral candle from Glasshouse Fragrances or Aesops Aganice Aromatique Candle.  Myrtle and Moss create a beautiful botanical range of room scents and Endota Spa offer uplifting essential oils.  Even potpourri is making a come back with the beautiful range from Pottery Barn offering scents from country to coast.
I hope this has inspired you to refresh your home and lift your spirits with the new season.  Stay tuned for future happenings.
Still looking for ideas?  Refresh your courtyard with my article '4 Steps to A Stunning Secret Courtyard'