As restrictions ease we are drifting back towards some sort of normality.  Although it would be naive to imagine that is might ever be the same again.  The reshaping of our world and the way we live has often been influenced by major events throughout history.  Consider the influx of women into the workforce after the world wars, meal planning changes as a result of recessions and recently the way the world changed after 9/11.  Major world events, whether acute or prolonged, have an effect on the way we live and so will Covid.
A number of the changes designers are predicting as a result of Covid had already started to emerge last year.  We could already feel a desire for re-connection to nature, a disconnect from technology and a reaching for a slowness that was like a quiet dream we could almost remember.  What has occurred is a more urgent and heightened awareness of the need for these changes.  Here I share my expectations for change within our homes and the way we live.
Agile Homes
The realisation and preparation for staying at home was not a slow unfolding, but instead a rapid tripping through an understanding of how that might work.  Our homes have typically been designed to house us for short periods of time in between work and socializing.  Our homes were not designed to hold multiple people working and studying at once or even at all in some cases.  Suddenly we needed to work, home school, house grown children returning home due to finances and find space for a home gym.  The home hobbyist saw a rise with a significant increase in google searches for DIY while kitchens were once again occupied by enthusiastic cooks.
My expectation is that this experience will push us to build and update our homes with greater flexibility in mind.  The incorporation of spare bedrooms that become home offices, spaces that can double for hobby activities, laundries that allow for craft or a potting station, study nooks for kids tucked away throughout the house and garages that double as home gyms is likely to become normal.  Spaces that were working "well enough" may receive adjustments as a result of their evaluation during covid.  Renovations like improved office storage, kitchen updates for the avid cook and better technology options throughout the home have already been put into motion.
Extending upon that, I highly anticipate the introduction of changes to building structures to allow for open plan spaces to be closed down when required, such as moveable screens and large internal sliding doors.  It is also likely that the popularity of granny flats will grow to allow for the spread of family when needed.
Finding Quiet
With people living in the same space for months on end and very little opportunity to leave, the ability to find respite from noise and interaction is something that has been a challenge for most of us.  While connection with people is a necessary piece of being human there is also the need for quiet places to contemplate, rest and focus.    Noise cancelling head phones are useful however being alone is different.
We will no doubt see an increase in corners of  bedrooms furnished with comfortable chairs, parents retreats, extension of space through courtyards and balconies and standalone home offices.
Homes For Wellness
Almost immediately upon the introduction of lock down restrictions we began to see people seeking ways to improve their home.  There was a great deal of activity around decluttering, cleaning and decorating.  This was most likely born out of a need to keep occupied or to create spaces for learning and working.
However over the period of being at home we have been given the opportunity to focus on how our homes are performing as safe havens for us and our mental health.  As we retreated into our homes what we realised was a desire for our homes to care for us, provide places to connect and room to feel renewed.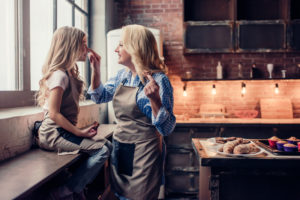 I would expect to see a softening of spaces and reduction of clutter.  Additions of positive sensory stimuli such as scented candles, natural textiles and art will offer comfort and a relaxation of mind while colour palettes will most likely drift toward comforting nature inspired hues.
I anticipate that purchasing is likely to become more considered with a desire for connection to story and people for the simple reason it is a wonderful balm for our souls.  Local  purchasing will be more important in a bid to support home based communities and connect with people while improving our understanding of where our products are sourced.
A quietening of interiors with a focus on the more fundamental needs of people and their social interactions are likely to drive design moving forward.
Connection To Nature
With national parks and playgrounds closed we very quickly grasped our inherent need for connection with nature.
Again awareness of this impluse has been increasing over the past few years.  It is the  sudden and significant disconnect from nature that will push a reshaping of homes allowing nature to take centre stage.
In fact Google noted garden design as a search topic had doubled over this time, while we saw Face Book groups like "View From My Window" has reached 2.3 million members.  Connections with nature have been scientifically proven to increase cognitive capacity, balance circadian rhythms and reduce stress which is exactly what is required after an event like Covid.
I absolutely anticipate that the need to incorporate nature into our homes will continue to build with inclusions such as indoor plants, plant filled balconies and courtyards and backyard play areas popping up in homes.  The desire to live in places with easy access to beaches or country will grow, especially as the realisation that the work commute may not be so necessary anymore thanks to our work from home experiment.
Probably the most important learning of Covid was our recognition of how much was enough.  What was truly important to us and what was necessary to sustain us physically and mentally.  As you move into this new world, before you make any significant change, I would like you to write down what is just enough to deliver happiness for you.  You may find that what you've been chasing was not actually worthwhile after all.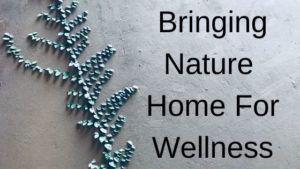 If you have a project you would like help with please call.
0417 600 893
bec@elskainteriors.au