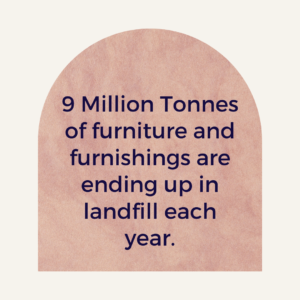 Fast fashion is a well known term, however the impact of fast interiors is quickly becoming a rival headliner.  The Environmental Protection Agency found that 9 Million Tonnes of furniture and furnishings are ending up in landfill every year. You only need to pop down to your local dump to see that cheap, poorly made furniture and furnishings from large brands are being disposed of at a rapid rate… and on occasion beautifully made items too.
I understand the allure of the beautiful display windows and the desire to create something beautiful for yourself.  I'm certainly not saying you should give up the dream of a home you love.  However our current behaviour regarding design is unsustainable, especially when you consider that landfill is only the end point of the process.  Before it reaches you there is the resource input to the production and delivery of these furnishings.  We need to change if we anticipate any possibility of a future for this planet.  It's time to slow down on decorating lovelies.  Here's some of the ways you can design with a smaller footprint.
Shop Your Own Home
Maybe you have something lying around your home that is need of a little tweaking or a shift in position to give it new life.  I have refinished more than one piece of furniture in my time that would have otherwise ended up in the tip.  Paint is available in anything from a matte pastel to a shiny metallic meaning your imagination is often your only limit.  And with the endless guidance on youtube you can refinish your furniture, pots or ornaments to create something you adore…for a smidge of the price of a new piece.
If you love marking the change of seasons with cushions and pots and all the pretty things don't dispair.  Cycle decorator items in and out (of your own storage) for the seasons.  If you purchase well in the first place your spring cushions will be excellent for years to come.  Just store them well so the moths don't devour them.
Create new combinations with your existing items.  Move art around, create different vignettes or try an occasional chair in a different spot.  Who knows the treasures you might find by using a different lens to view what you already own.
One Mans Trash
Ok so you definitely have a need for a new **insert your thing**.  Before you rush out and buy something from a giant box store, why not shop preloved items.  It's amazing what you can find on gumtree, marketplace and in local thrift stores if you're patient.  Often I see people selling brand new items due to an impulse purchase that didn't work out.  Their mistake could be your win.
Make sure the item is in fair condition or can be repaired at worst, make sure it fits your purpose including style and scale for your space and keep an open mind as to how it might need to be improved (e.g. new paint and handles).  By the way, don't forget this street goes the other way too.  Just because you think an item you own is worthless doesn't mean someone else won't love it.  Pop it onto your local swap/ sell/ buy page or donate it.
Heirloom Furniture
This is possibly the most important point.  I know the joy of creating a new space.  I live for it.  But when we are purchasing poorly made chipboard furniture you will find within a few years they are bound to break, swell or peel with no opportunity for repair.  We've all done this too many times, lured in by pretty display windows.
Heirloom items are the opposite of these.  They are items that you know you will love forever, not just for a season. The kind that could be passed down through generations.  They are items that will stand the test of time not only from a durability perspective but a style perspective as well.  Look for items with a classic style.  If you know you tend to shift your style and decorating preference choose furniture that is simple in design so that it can sit easily within multiple styles.  Look for excellent craftsmanship and pieces that can be refinished such as natural timber and sofas with excellent frames.  The added bonus of heirloom furniture is that over time your furniture stays with you and it holds memories of the life that unfolds around it.
Green Credentials
Finally, when you are purchasing, consider the green credentials of the company you are buying from.  The way furniture and furnishings are made has a significant impact on the environemnet.  Understanding what you're buying can make a significant difference.  Things to look for:
Does the company have a policy around environmental protection?
Are materials sustainably sourced?
Does the company take into account the impact of production on local waterways?
Are the product warranties of a suitable time for the type of product?
To finish, I'll share four of my favourite brand leaders in this field.
Earp Brothers Tiles
Why – Tile production has a large environmental footprint, especially when tiles are poorly made and require replacement after a short period of time.  Earp Brothers are the only Australian tile company who are green tag certified, meaning they have met rigorous testing standards regarding their production facilities.  Their tiles are of a high quality standard and they have agreements in place throughout Australia for a 100% recycling of old tiles program with Veolia.
Cavalier Bremworth Carpets
Why- Cavalier are not only a high quality carpet with very low VOC levels (volatile organic carbons), they have recently moved to delete their entire synthetic carpet range, meaning that when a Cavalier carpet reaches the end of its life it will decompose, unlike the synthetic varieties.
Native Swinson Wallpapers
Why- Native Swinson are hand printing beautiful wallpapers out of Sydney using certified organic foreground inks that are water based and free of toxic chemicals, lead and other heavy metals.  They also offer a natural blend paper made from a combination of natural pulp paper from green certified pulp forestries and recycled post-consumer waste.
Armadillo & Co. Rugs
Why- Armadillo & Co have been leading the way in producing high quality rugs from natural products and have recently deleted their very popular outdoor rug range due to the risk of microplastics.  I love that they have seen the problem and chosen not to be a part of it regardless of the bottom dollar.
Ok then.  I'm not asking you to be eco warriors.  But I do hope this has inspired you to think before you purchase and look for new ways to create a beautiful home
xo Bec 🙂